What is The Gospel?
🙋‍♂️ If you're first with your hand up, did you think we asked what the literal translation of the word Gospel is? The word Gospel does mean, Good News. And if that was where your mind went first, let me ask the question another way, what is the Good News? (You thought it was going to be an easy question, didn't you?😉)
This is a BIG question and you may have grown up with one of the following ideas as to what the answer is:
The story of Israel or the story of the Bible
The story of Jesus - found in the first four books of the New Testament
The plan of salvation - whatever that looks like in your faith community
The method of persuasion - evangelism, or however you define it
The story of the bible is intertwined with the story of Israel. It begins with a beautiful and perfect creation in which God interacts in a relational-partnership with his pinnacle creation, humans. This partnership is for the benefit of the rest of His creation which He placed under the care and control of humanity (Adam and Eve). But instead of letting God set the boundaries for good/evil, right/wrong, they (and we, still/always) chose to determine good and evil, right and wrong for themselves. And the dissolution of the partnership between God and creation began.
But God's plan took into account our failure. God chose one man to lead one family that would become one nation that was intended to represent God's original relational-partnership with humanity to the rest of the world. And through this family/nation of "priests" God would invite every person from every nation, tribe and tongue into a relational-partnership. But again, humanity failed. For hundreds of years Israel just couldn't get it right. Because they were Selfish In Nature (SIN) they just couldn't get it right and kept messing up and kept following their own selfish desires instead of the commitments they made to God.
So God did something unexpected. Instead of giving up on Israel, He doubled down. He promised more peace, more protection and more provision in-spite of humanities utter failure to follow Him. And through Jesus, who was a child of Abraham, the perfect Israelite and from the line of King David, God made a way for all the covenants between God and man to be fulfilled (see 2 Corinthians 1:20). Once all the old or original covenants were fulfilled a New Covenant could be issued. This time the covenant didn't require any human commitments except faith, expressing itself through action (see Ephesians 2:10 and Philippians 2:13).
This is why Jesus could proclaim the Good News of God in Mark 1:14-15 by saying, "The time has come. The kingdom of God has come near. Repent and believe the good news!"
It is through Jesus the King that a relational-partnership with God is offered to all humanity (see Acts 4:12 and Galatians 3:14).
It is through this relational-partnership that we experience the real lives we were created for (see Galatians 2:20, Titus 2:12 and 1 Peter 4:2).
Our real lives are dependent on the Holy Spirit's work in us as we daily surrender to Jesus reign (cause he's the King) and wait for His return (see 1 John 3:24 and Galatians 5:25).
Real Life's Gospel Definition: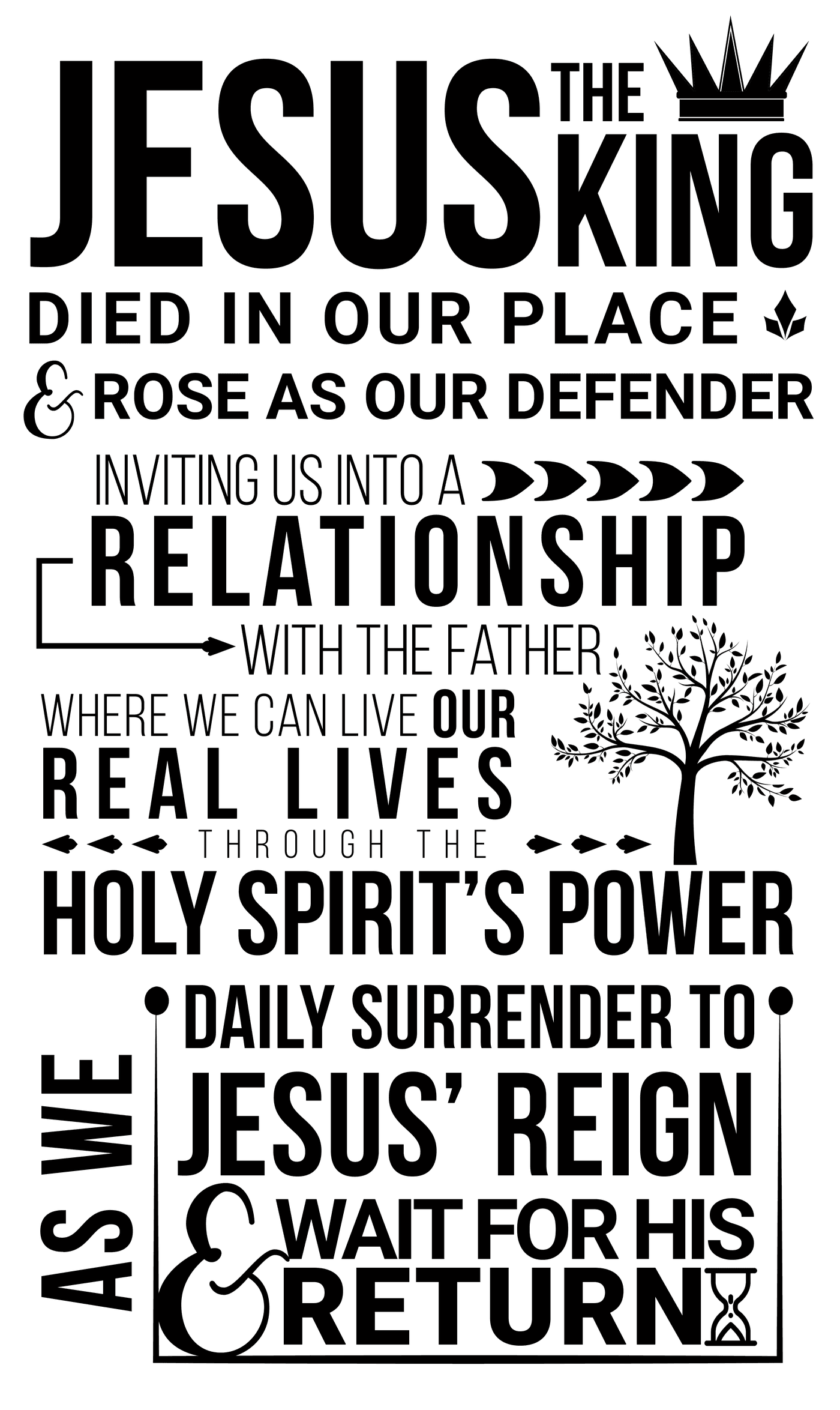 Jesus the King - (King=Kingdom) John 18:36-37, Matthew 12:28
Died in our place and - 1 Corinthians 15:3, Hebrews 9:15
Rose as our defender - (Resurrection) 1 John 2:1-2
Inviting us into a relationship with the Father - 1 Peter 3:18, Revelation 3:20, John 1:12-13, John 14:6,
Where we can live our real lives - Mark 8:34, John 10:10
Through the Holy Spirit's power - Romans 15:13, 1 Thessalonians 1:5
As we Daily Surrender - James 4:7 CEV, Colossians 1:22-24, Luke 9:23
to Jesus reign - Colossians 1:13, Ephesians 1:20-21, Isaiah 9:1-7
and wait for His return - 1 Corinthians 1:7, Hebrews 9:28, Titus 2:13, 2 Peter 3:12-13, James 5:7, Galatians 5:5, Romans 8:23